Dr. Julia wearing a new Lafont frame.
Please meet Lenora!
She is wearing the newest release from Safilo The Collection.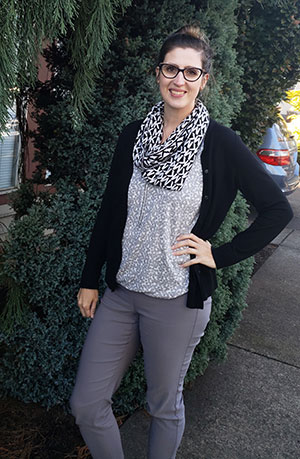 Frame Lines
Here are a few of our select frame lines that are at each of our locations. Please come and view our optical dispensary for the newest trends and independent frame lines.
Beaverton Location:
Kid's Lines:
Betsy Johnson
Champion Kids
Dilli Dalli
Flexon Kids
Hello Kitty
Kensie Girls
Lafont Enfants
Lilly Pulitzer Girls
My Little Pony
Nano Vista
Nike Kids
Oakley Kids
Ocean Pacific
Paw Patrol
Phoebe
Rayban Kids
Steve Madden
Sport Goggles
Teenage Mutant Ninja Turtle
Tony Hawk kids
Adult Lines:
Adin Thomas
Ann Taylor
BCBG
Bellinger
Calvin Klein
Champion
Chesterfield
Cinzia
DKNY
Dragon
Entourage of 7
Etnia Barcelona
Evatik
Flexon
Fysh
INVU Suns
Kate Young
Kensie
Kliik
L.A.M.B.
Lafont
Levi's
Lily Pulitzer
LongChamp
Masunaga
Maui Jim
Michael Ryen
Nifties
Nike
Nine West
Oakley
OVVO
Paradigm
Penguin
ProDesign
Ray-Ban
Salvatore Ferragamo
Scott Harris
Silhouette
Specs4Us
Steve Madden
State Eyewear
Victoria Beckham
WOOW
Wolverine Safety Glasses
Zac Posen
Clackamas Location:
Kid's Lines:
Dilli Dalli
Specs for Us
Lafont Enfants
Lafont Bebe
Miraflex
Nano Vista
Lilly Pulitzer Girls
Kensie Girls
Nike Kids
Oakley Kids
Ray Ban Jr.
OVVO Kids
Paw Patrol
Tony Hawk
GX by Gwen Stefani
Zuma Rock
Lulu Kids
My Little Pony
Sport Goggles
Teenage Mutant Ninja Turtles
Adult Lines:
Ann Taylor
Bellinger
Betsy Johnson
Calvin Klein
Champion
Chesterfield
Coach
DKNY
Dragon
Entourage of 7
Etnia Barcelona
Evatik
Flexon
Fysh
Kate Spade
Kensie
Lafont
L.A.M.B.
Levi's
Lilly Pulitzer
Lulu Guiness
Longchamp
Maui Jim
Masunaga
Nicole Miller
Nifties
Nike
Nine West
Oakley
OVVO
Paradigm
Paul Smith
Penguin
ProDesign
Rag & Bone
Ralph Lauren Polo
Ray Ban
Robert Graham
Salvatore Ferragamo
Silhouette
Salvatore Feragamo
State Eyewear
Specs4Us
Vera Wang
WOOW
Wiley X
Hillsboro Location:
Kid's Lines:
Kensie Girls
Lilly Pulitzer Girls
Marchon NYC Jr
My Little Pony
Nano Vista
Nike Kids
Oakley Jr. 
Ocean Pacific 
Paw Patrol
Phoebe
Ray Ban Jr.
Teenage Mutant Ninja Turtles
Tony Hawk kids
Sport Goggles
Adult Lines:
Adin Thomas
BCBG
Bellinger
Calvin Klein
Champion
Cinzia
Coach
DKNY
Dragon
Entourage of 7
Etnia Barcelona
Evatik
Flexon
Fysh
INVU Suns
Kate Spade
Kensie
Kliik
L.A.M.B.
Lacoste
Lafont
Lanvin
Lily Pulitzer
Liu Jo
LongChamp
Maui Jim
MCM
Michael Ryen
Nicole Miller
Nike
Nine West
Oakley
OVVO
Paradigm
Paul Smith
Penguin
ProDesign
Rag & Bone
Ray Ban
Scott Harris
Silhouette
Specs4Us
State Eyewear
The Safilo Collection
Wiley X
WOOW
Zac Posen
Vancouver Location:
Kid's Lines:
Betsy Johnson
Champion Kids
Dilli Dalli
Flexon Kids
Hello Kitty
Kensie Girls
Lilly Pulitzer Girls
My Little Pony
Nano Vista
Nike Kids
Oakley Kids
Ocean Pacific
Paw Patrol
Phoebe
Ray Ban Jr.
Sport Goggles
Steve Madden
Teenage Mutant Ninja Turtle
Tony Hawk kids
Adult Lines:
Alan J
Ann Taylor
Bellinger
Calvin Klein
Champion
Cinza
Coach
Dragon
DKNY
Entourage of 7
Etnia Barcelona
Evatik
Flexon
Funoogles
Fysh
Kate Spade
Kensie
Lafont
Lilly Pulitzer
LongChamp
Masunaga
Maui Jim
Michael Ryen
Nano Vista
Nicole Miller
Nike
Nine West
Oakley
OVVO
Paw Patrol
Penguin
Polo
ProDesign
Safilo the Collection
Salvatore Ferragamo
Scott Harris
Silhouette
Specs4Us
Steve Madden
Vera Wang
Wiley X
We also have one of the widest and best selections of kids frames including the following in all of our locations:
Erin's World – Flexon – Lafont EnfantLafont Enfants – Lilly Pulitzer Girls – Miraflex – My Little Pony – Nano – Oakley kids – Paw Patrol – Ray Ban kids – Teenage Mutant Ninja Turtles